See What Our Customers Say About Us On Google
Whether you are selling your property, arranging a property valuation or buying one, we aspire to be the best estate agent in Brighton & Hove, we promise to give you an excellent service. Here is what our clients had to say about their experience…
When purchasing our property with Cox & Co we were slightly bruised by our property journey. Over a two and a half year period, we'd been involved in 4 separate failed chains / spent time getting to know every estate agent in Brighton and Hove and our savings had taken a considerable dent after paying for multiple surveys/solicitors/mortgage brokers etc. The chaps at Cox & Co were incredibly sympathetic towards our experience and came to our rescue with a property on St Andrews. Buying a property is, of course, a business transaction but there is a huge amount of emotion involved and they got the balance of the two just right when navigating our sale. They were detailed / efficient and never left us hanging - it was an incredibly refreshing experience.
We won't be moving any t...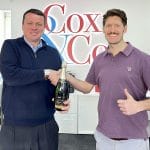 I cannot recommend cox&co enough!! Russell has been phenomenal from start to finish on the purchase of our new home. Thank you, Marc & Russell. I will definitely be selling through you guys when the time comes.
Highly recommended!! Marc and Russell were amazing to work with. Russell is very calm and professional in his approach to giving weekly updates, so we always knew what was going on, and chased the other estate agent and solicitors to speed things along. They made the whole process very smooth and easy.
Marc and his team are superb full of knowledge and very honest. I wouldn't hesitate to recommend Cox & Co.
What an excellent estate agent, Russell proved from our initial enquiry that he is exceedingly knowledgeable in all aspects of his business, he explained everything thoroughly in English and not in estate agent speak in a friendly way, ensuring that we were kept up to date with the sale. I have no qualms in recommending him or his business. Many thanks
Such a brilliant service from Marc and Russell who kept me informed every step of the way in selling my brothers house.
You certainly won't go wrong in selling or buying your property from them.
Really genuine people which in this day and age is difficult to find in an estate agents!
Russell Best at Cox & Co has been the best estate agent we've dealt with. After house hunting for the best part of a year, we met a lot! Russell stood out from the rest as someone we could really trust. He's friendly, straight-talking and honest and really really good at his job! He's super responsive on email and picks up the phone with solicitors to move things forward with the sale. He was instrumental in getting our purchase through very quickly. In his absence, Marc was just as quick at picking up emails and taking action with solicitors. I hope not to sell our new home for a long time... but if I did, I would go straight to Cox & Co to be our agents. Absolutely top-notch!
Very helpful and knowledgeable with my valuation.
I've just recently sold a property with Cox-Co.I found Marc and Russell really easy to deal with, nothing was a problem. I would highly recommend them.
Like
Russell and Marc were so helpful and very professional throughout the sale of my Mum and Dad's house. After a difficult start with the initial buyer pulling out at the last minute they managed to push the sale through with a new buyer quite quickly.
I was kept informed with regular updates and they explained everything, their communications throughout were so good. I formed a great relationship with them so everything ran smoothly in the end.
I can highly recommend Cox & Co.
Marc and Russell have been so easy to work with.
They secured a sale on my house quicker than I ever thought possible!
This was achieved through their ability to work alongside me and my personal situation and find the right buyers at the right price to ensure a smooth and fast sale.
I always felt I could pop in for advice at any time and they have always been on the end of the phone when needed. Estate agents get a bad name but I can honestly say they have the client's best interest in mind and work towards the client's requirements at all times whilst remaining professional and efficient.
Thanks for helping me move onto the next chapter fairly stress free!!!!
I was dealing with Russell from the moment I enquired about the property that I would like to buy in Worthing. He was very professional and helpful. In fact, He was much more involved and helpful than my own estate agent! He provided me with updates on the progress of my purchase and gave me some advice on what needed to be done to speed up the process even on the selling part of my property. He also provided some useful information on what's involved in selling and purchasing the property including how long each process usually takes. He did beyond what I expected him to do. In fact, I didn't get any service that I received from Russell from my own estate agent. He also helped me chasing the progress either with my solicitors or my estate agent. He always replied to my calls...
We bought a house through Cox & Co, Marc and Russell were very helpful and responsive to all of our questions.
They helped us complete what was quite a complex sale with several issues in the chain, taking leadership with the other estate agents to ensure the sale went through with as little stress as possible.
Russell and Marc were a pleasure to work with and made my home buying experience much easier than I've experienced in the past. They were always on hand to answer any questions and to help efficiently move things along when needed. I would trust Cox & Co to help me both sell and buy my home in the future, and I therefore highly recommend them to others too
It was a difficult and long sale but Russell & Marc managed to get it over the line after jumping through hoops. I think other agents would have given up earlier in the process but their professionalism proved that the customer comes first and that's why their reputation precedes them.
Russell and Marc did a fantastic job with our house purchase. We were on an extremely tight deadline and they really went the extra mile to make sure we were in our new home on time. Thank you both so much!
Not just a quick sale, but very professionally managed, with a friendly service and good communication throughout. Nothing was too much trouble, they even arranged changing locks and access for tradesmen. We could not have asked more. An excellent fast and efficient transaction from a friendly family company, I would highly recommend.
Very happy with the service provided by Cox & Co. Both Russell and Mark were very helpful throughout the whole process and the interactions felt more personal than I have experienced from other larger estate agents. I would be happy to use them again.
Marc and the team at Cox & Co have been an absolute pleasure to deal with from first contact until completion. They are very knowledgeable and patient in their approach, there are plenty of estate agents in the area but Cox & Co are amongst the best and I would wholeheartedly recommend them.
Positive: Professionalism, Responsiveness
I can assure you, there is no better Estate Agent's thank you for everything, keeping my Son's and myself informed at every step of the way throughout a very difficult period.
You dealt with everything so sensitively and kept us informed.
Thank you Russell for chasing the Probate solicitors and recommending the excellent conveyancing Solicitors. All in all an excellent service.
It was a pleasure to buy a house from Russell at Cox & Co. he's a good balance of friendly and professional. He answered questions throughout the whole process and after the purchase, as well as always checking in and keeping us updated. Thanks for everything.
A massive thank you to Marc and the team for all of your help and support in selling our property. Marc, Russell and Tony went above and beyond to assist us. The communication was great and they were very professional and honest. We couldn't have done it without you, so thank you. We would highly recommend.
We bought our new home through Cox & Co and were delighted when we completed it on Friday. We were kept up to date throughout, really easy to get hold of and communicate with Russell and Marc which helped keep our chain on track. Highly recommended
Throughout our selling process, Marc and his team provided professional knowledge, expertise and support. Nothing was too much trouble and they were happy to answer and solve any questions that we had. I would recommend Cox and Co to anyone whether they are buying or selling a property. Thanks again to all the team x
I cannot speak more highly of Russell at Cox & Co Homes, Hove. Russell is an exceptional agent who is professional, very knowledgeable about the market and the buying process, understands people and provides a personalised service. Russell provided support and advice with each step of the way keeping everyone in the chain informed. Unlike other estate agents, I have dealt with who are very money-driven Cox & Co Homes are relationship-focused. Thank you to Russell, Marc and the team for the gold standard service!
In the recent madness that was the Stamp Duty Holiday, this company was extremely helpful. Would highly recommend these agents!
I made a great choice appointing Cox & Co to help sell my flat. A small team meant great service with everyone in the office knowing the property and able to help. I felt that Marc, with whom I dealt with predominantly, was efficient and acted with integrity making the process between myself and my buyer smooth and niggle free. Thank you.
Russell and Marc were Very professional and being helpful from start towards the end of the sales, highly recommended
We recently bought a property and the selling agent was Russell from Cox & Co. Russell was very professional, responsive and helpful. It has been a refreshing experience to work with a serious agent that doesn't play games, who answers the phone and/or calls you back as soon as possible. Liaising with the vendor was smooth thanks to Russell and we managed to gather all the information we wanted prior to and during the process. The sale process was fast and we managed to complete it before the end of the stamp duty holiday. We can't recommend Russell and Cox & Co enough. Thank you, Russell!
Great agents, not only did they look after us but kept our solicitor and other agents in the loop of what was a very tricky stamp out y deadline! Would recommend them.
Cox & Co came highly recommended to us. They made the whole process of selling our house so simple and hassle-free. They kept us informed and up to date with everything along the way Thank you Marc for all your help
Efficient responsive service with someone always on the end of the phone for queries. Good knowledge of the transaction and a helpful professional attitude. Thanks Mark and Russell for all your help.
We have recently bought a flat in Hove through Cox & Co., and Marc Cox was our main contact. From the first viewing, all the way through to completion, Marc has been fantastic. He has facilitated communication between us and the vendor, and he has always been great for advice on the house buying process, so we were able to complete within 7 weeks. Marc is friendly, knowledgeable and professional, and he has helped to make what is usually a highly stressful process, an enjoyable one. He is straight-talking, and efficient and I would highly recommend Cox and Co. to both buyers and sellers. Many thanks
Marc and Russell more than helped me sell a property, they guided me through every step of the process from valuation to completion and I felt totally supported by them through every step - even receiving texts or emails when viewings were booked and feedback at every point. I cannot thank them both or recommend this company highly enough. Totally professional throughout as well as having a huge amount of patience required with the process of selling or buying a property: Finally just lovely to deal with through the whole thing. Thank you Cox & Co so very much.
A good estate agent to deal with. Straightforward and honest in approach. Nice guys. They know Portslade really well and this comes over as a real positive. I dealt with Russell in the main who was excellent. V patient and informative. Good advice on the process. All staff were good (Mark and Mr C SNR) as back up and it's clear they want the best for their clients. Would recommend- feels like a family-owned and run business which is great.
Friendly and professional service, I had a free valuation, no pressure tactics, just honest advice, highly recommend these agents.
Marc sold our flat. He uses interesting metrics to gauge the marketing and found two potential buyers and Marc drew a higher offer from the eventual buyer. This became a sale at the height of the Covid crisis but Marc stood tall when they made an 11th hour reduced offer. The property was exchanged and completed within 10 days of this refusal. I'd recommend him without hesitation.
Very experienced and straight talking!
Best agent in town but I would give myself that review !!
A note of thanks to Marc and Russell for helping us sell our house swiftly. Under tricky circumstances, they kept us up to date often and also dug in when things on the chain went quiet. Thanks. Would recommend.
Would highly recommend Cox and Co, Mark and his team provide a very professional service with great communication throughout the house moving process. The whole experience of selling our property was made very easy. Thank you all again, especially Russell.
First impressions really do matter and speaking to Russell was a breath of fresh air after some initial interactions I'd with other estate agents. I had already been impressed with Cox and Co's website which has such a personal tone and this was reinforced when I spoke to Russell on the phone who was incredibly helpful to not only respond to my query but to take the time to find out more about my situation with genuine interest and make connections to available properties, answer questions in detail etc. Thank you for your efforts in putting personable customer service high on your agenda!
Friendly, professional with great communication. Russell gets back to you quickly on any queries. They have been in contact throughout. Very friendly and extremely helpful. I wouldn't go anywhere else!
Russell and the team are amazing! Best estate agents we've dealt with by far and we will definitely be using them again in the future. Thanks for everything!
Marc, Russell and the team were friendly, professional and responsive throughout the process, and when it mattered, managed the relationships sensitively and diplomatically to get the best result for everyone involved. I would not hesitate to either sell or buy through Cox and Co again. Thanks guys.
Thank you Samira hope you are settled into the new place.
What can I say Russell Best lives up to his name !! Nothing was too much trouble . Went way beyond what he had to do . The whole experience of selling my house was made very easy with Cox & Co . Recommend them 100%.
Marc, Tony and the whole team at Cox and Co have been brilliant from start to finish. They helped every step of the way and went above and beyond on a number of occasions. A big fat two thumbs up from me!
I received valuable advice from the start. The process from start to finish was straightforward, clear and I always knew what was happening. They were flexible with viewings and really responsive.