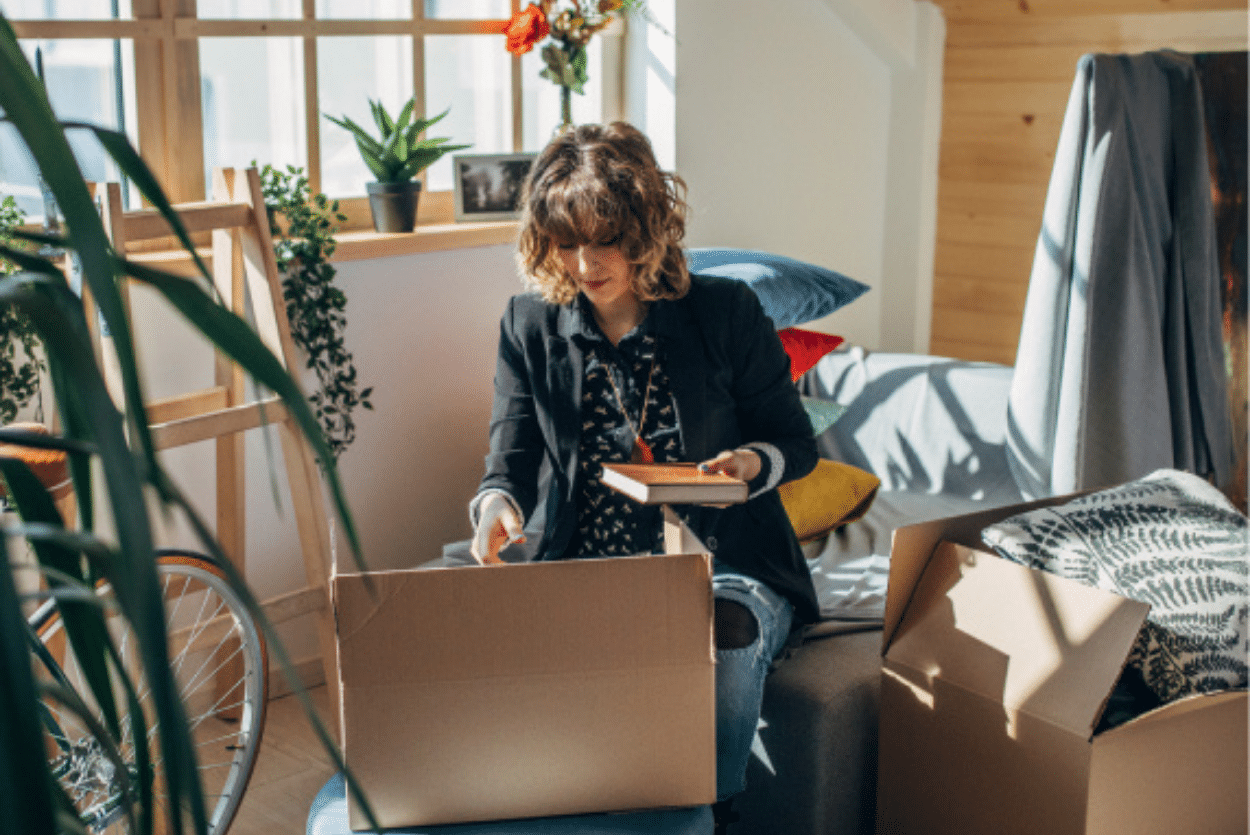 Have you been dreaming of making your next move? Perhaps you're looking for a home with more space and a garden, or dreaming of a cottage by the sea?
If you're ready to put your plans into action, our handy guide will take you through each step of the process, from finding an estate agent and setting your asking price, to preparing your home. Take a look.
Arrange a property valuation
Getting an accurate valuation of your current home will help you to confirm how much you can afford when you're planning your next move.
The best way to get an accurate valuation is to ask a local estate agent. You can find local estate agents and arrange a free property valuation here.
You can find out how much properties near you have sold for to give you a rough estimate based on similar properties in your area. But homes are as unique as the people who own them, so there will always be variables that even all the data in the world would not pick up on.
An in-person valuation will allow the estate agent to see the property's condition, and get a feel for the space and size of the rooms, as well as your immediate local area.
Check your mortgage documents
Contact your current lender to let them know you're planning to sell your home, and ask them what your options are with your current mortgage. You may be charged a fee if you're ending your current deal early, so you'll want to factor that into your budget. If you have a 'portable' mortgage product, you may be able to transfer your current mortgage to a new property.
Choose the right estate agent
Choose an agent you feel you can trust to guide you through this process.
"Don't choose an agent on fees alone," advised Marion Currie, a valuer at Galbraith estate agents. "This is the sale of your biggest asset and you need to have an agent you have a rapport with. Their approach and methods should be just as important to you as what they might charge."
It's also a good idea to choose an agent who has most recently sold properties in your building or on your street, as they will have the most up to date list of potential buyers for your property.
READ MORE: How to choose the right estate agent
Prepare your home
Getting your home ready for viewings is probably one of the most impactful things you can do, and can create a sense of space and a blank canvas to help your buyer imagine themselves living there. The better your home looks, the more appealing it will be.
"On average, people form an opinion in just seven seconds, therefore that all important first impression will be made before a potential buyer has even set foot inside your home," says Christopher Scott of Hamptons in Banbury. "Buyers are swayed by kerb appeal: if the property looks nice from the outside, it's sure to get more attention via online listings, and entice buyers to want to see more.
"Ensure the front garden or entrance is welcoming and neat, and address any peeling paint or piles of mail. This can go a long way towards capturing a potential buyer's imagination in those first few moments," he added.
Decluttering inside is hugely effective, so make sure it's looking spotless. Many buyers will also be planning to work from home, at least part time, so it could be worth setting up an office or workspace in your home to show how it will work. If your broadband isn't particularly fast, it's a good idea to upgrade it, and make sure that the new speed is included as a selling point in your property listing.
READ MORE: Top tips for preparing your property to sell
Set the right asking price
Once you've chosen your agent, you'll need to decide what your asking price will be. You can use research on what similar homes have sold for recently as a guide to what buyers in the current market could pay for yours, along with being guided by the recommendation from your estate agent.
James Hyman of Cluttons says there is a fine line between a price that will generate interest from buyers, and one that won't. "It's all about footfall. Price your property too high and you won't generate the necessary viewings to sell your property," he adds.
READ MORE: How much is your house worth?
Check your Energy Performance Certificate (EPC)
You'll need to provide your estate agent with a valid Energy Performance Certificate (EPC) within a week of listing your home for sale. An EPC provides information about your property's energy use. If you don't have a current certificate, they cost anywhere between £35 and £120, depending on where you live and how big the property is.
You can check here if your certificate is still valid in England, Wales and Northern Ireland, or here if the property you're selling is in Scotland.
Find a solicitor
Getting a solicitor to act for you is as important as picking an agent. Once you have accepted an offer, they will administer the sale. It's often worth getting a referral from your estate agent, or ask family and friends for recommendations.
It's never too early in the process to hire your solicitor. You can ask them to prepare the contract, and if there is a managing agent, make sure they have the Seller's Leasehold Information Pack ready, so everything is in place when you find a buyer. In Scotland, you'll also need a surveyor to write up a home report.
Your solicitor is going to need some information from you – everything from title deeds and building control certificates for any work you've had done, to leasehold documents and boiler service history, so it's a good idea to start digging them out.
Accepting an offer
When you get an offer, it doesn't mean that the sale is finalised, so there are lots of things you can do to keep the sale on track. Be as flexible as you can about timing, and as efficient as you can about producing any requested paperwork.
"Be sure to keep in regular contact with your solicitor and estate agent so that you're up to speed with what's going on throughout the process," advises Christopher Scott of Hamptons. "To help keep things moving, you might want to agree on a weekly update between all parties at the start of the process to reduce the chances of any miscommunication or misunderstanding.
"It's important to stay in the loop, because if you understand what needs to be done, and by when, it's easier for you to manage the sale process and keep on top of what needs chasing up," he adds.
Exchanging contracts
Once all parties are agreed there will be 'Exchange of Contracts', meaning that both parties are legally bound to the sale. In England and Wales, Exchange of Contracts is the last stage of the legal process after which you cannot pull out (without losing your deposit and any legal costs you may have incurred). In Scotland, this happens slightly earlier in the process.
Between exchange and completion, you'll be sent a statement showing the costs, the solicitor's charges and the mortgage monies that are being repaid. If you are making an onward purchase at the same time, you may need to send a balancing payment.
The last thing to do is to sign the Transfer of deed, which will transfer the ownership of the property on completion.